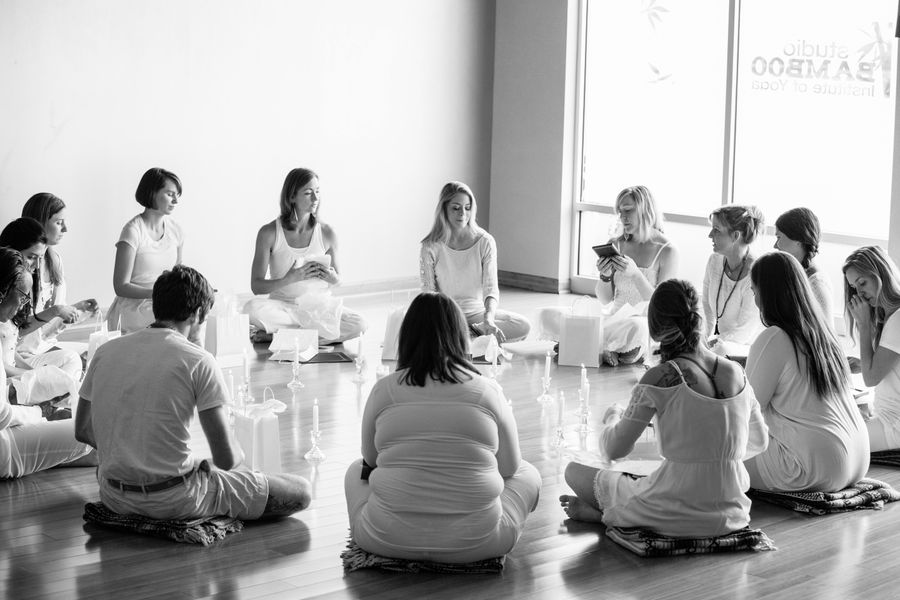 Teacher Training
Studio Bamboo Institute of Yoga is proud to host a variety of Yoga Alliance certified teacher training programs for those interested in becoming a yoga instructor and/or current instructors that are interested in advancing their studies.
We offer multiple certification levels including, but not limited to, 200-hour Teacher Training, 300-hour Teacher Training, 85-hour Prenatal Teacher Training, Adaptive Yoga Teacher Training, Yoga for Cancer Teacher Training and more.
Yoga Alliance has recently updated their standards and credentialing regarding registered schools. Studio Bamboo Institute of Yoga is pleased to announce that all of our programs exceed the new standards required of Yoga Alliance.
READ BELOW FOR SPECIFIC PROGRAM DETAILS
Scholarships Available for Veterans and Military Spouses
Studio Bamboo is a registered school with the MYCCA program. If you are a military dependent or military spouse please contact MYCAA to begin your application to qualify for full financial assistance for Teacher Training tuition at Studio Bamboo.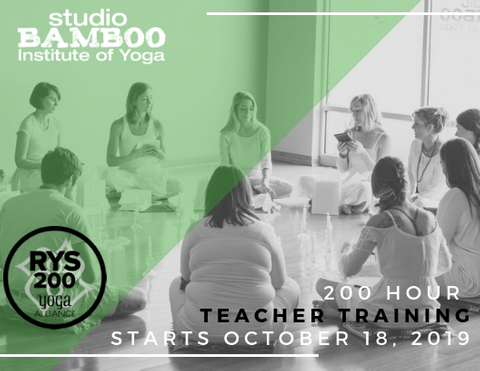 200-Hour Yoga Teacher Training
Program details:
The 200-hour teacher training program consists of 1 weekend a month: Fridays 6:00 pm-9:00 pm; Saturdays 8:00 am-4:30 pm; Sundays 8:30am-3:30pm
During the training periods students are welcomed and encouraged to observe any class on Studio Bamboo's regular class schedule.
Midway through the program students will lead their own yoga classes to a lead teacher and a group of their peers.
Each student is required to complete all homework, reading assignments, video assignments and exams.
All exams must be passed with a score of 80% or higher.
Students are required to observe a set number of classes. After said class, students are to maintain and log a brief summary of the class.
Students will be required to purchase their own books.
All training manuals will be provided to students by Studio Bamboo Institute of Yoga.
Admission:
Prospective trainees may request an application for enrollment by emailing teachertraining@studiobambooyoga.com. Completed applications along with a $200 deposit and two letters of reference (one from a yoga instructor, the other from a personal reference) are to be turned into the studio at the front desk. Applicants will be notified of acceptance upon review.
Tuition:
Tuition In-Full: A deposit of $250, remaining balance $2,700. Total: $2,950
6 Month Payment Plan: A deposit of $250, 6 monthly payments of $500. Total: $3250.00
10 Month Payment Plan: A deposit of $250, 10 monthly payments of $325. Total: $3,500.00
Payment plans are auto drafted. Deposits are non-refundable.
Upcoming 2019 Program Dates :
Oct 18-20

Nov 2, 15-17

Dec 13-15

Jan 10-12

Feb 7-9, 22

March 6-8, 21

April 3-5

May 1-3
General Meeting Times Per Weekend:
Friday 6:00-9:00 p.m.
Saturday 12:00-4:30/6:30 p.m.
Sunday 8:30 a.m.-3:30 p.m.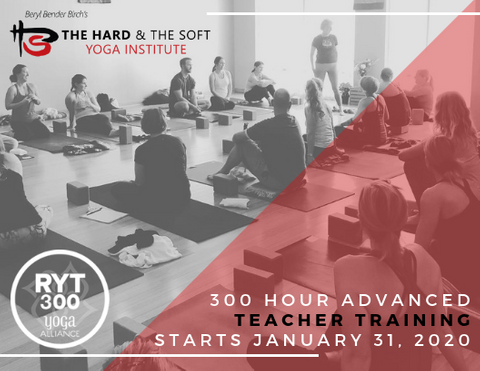 300-Hour Yoga Teacher Training
EXPERIENCE THE JOY OF PERSONAL EVOLUTION AS YOU GROW & EXPAND YOUR AWARENESS OUT INTO THE WORLD!
The Hard & The Soft, 300-Hour Yoga Training is a unique program that prepares you to practice and share the powerful therapeutic tools of asana, meditation, conscious breathing and mindfulness – and pave the way for a career in yoga service. Guiding you to participate in healing the world and our planet.
Through this highly respected program, you'll study with some of the best and most experienced teachers and certified yoga therapists in the country; and develop an Individualized Yoga Plan (IYP) to take the next steps towards working with specialized populations. Most importantly, you'll explore the importance of taking your practice out into the world. And you'll join a diverse, well-educated global community of graduates who are working to grow, evolve, strengthen their communities and spread this incredible practice called yoga.
This 10-month course of study, taught by our renowned faculty and highly experienced Certified Yoga Therapists (IAYT) including Beryl Bender Birch. Learn how to guide students to a deeper discovery of yoga, and build a foundation for a career in yoga service and leadership role in your community. Experience the joy of personal evolution as you grow and expand your awareness out into the world.
Director, American yoga pioneer Beryl Bender Birch, is the founder/director of The Hard & The Soft Yoga Institute and co-founder of the Give Back Yoga Foundation. As a best-selling author, (Power Yoga, Beyond Power Yoga, Yoga for Warriors) and teacher, Beryl has been teaching yoga and meditation internationally for over 40 years and is a longtime faculty member at Kripalu and Omega Institute. She graduated from Syracuse University with a degree in English and Philosophy, and began the study of meditation in 1971 with her teacher, Jain monk Munishree Chitrabhanu. She traveled to India in 1974 to further her studies and started practice of the ashtanga vinyasa asana system with her teacher, Norman Allen, in 1979. She continued to study with Sri K. Pattabhi Jois from 1987 through 1993. Her book Power Yoga (1995), an accessible form of the ashtanga asana practice, sold nearly 300,000 copies and was primarily responsible for introducing yoga to the athletic community. She, more than most, walks her talk…and is one of the brightest, most down to earth, knowledgeable, accessible, funny, and joyful people you will ever meet. One of her gifts is making authentic and therapeutic forms of asana accessible to all. Everyone on faculty has trained with her for decades and is at least a 1000-hour graduate of her school, The Hard & The Soft Yoga Institute. Beryl's vision trickles down from the top and infuses the program, the faculty, the community, and the students.
2020 Training Dates:
Jan 31st
Feb 1-2
Mar 27-29
April 24-26
May 29-31
June 26-28
July 24-26
August 21-23
Sept 18-20
Oct 16-18
Scheduled Training Times:
Friday 6:00 pm -9:00 pm
Saturday 9:00 am-5:00 pm
Sunday 9:00 am-4:30 pm
Tuition and Payments
$500 non-refundable deposit
Early Bird $4250.00 (Until Dec 1st)
Prepaid $4500.00
Payment plan of 10 payments of $425 (after the deposit) is available.
Do you have questions?
email: teachertraining@studiobambooyoga.com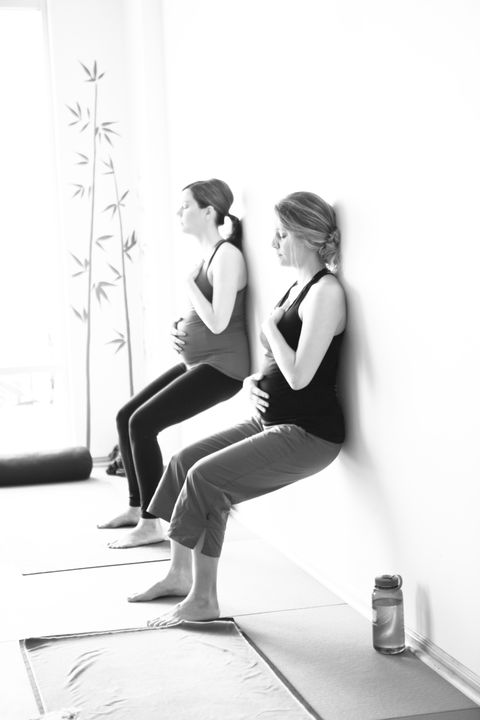 85-Hour Prenatal Teacher Training
Join Studio Bamboo for a Yoga Alliance Certified, 85-hour Prenatal Yoga Teacher Training. This is an advanced training for anyone who has a 200-hour teacher training certification.
Program topics:
How to effectively and safely guide yoga instruction for the pregnant student.

Asanas, contraindications and modifications for all stages of pregnancy

Breath work appropriate for the pregnant woman

Anatomy and physiology of pregnancy

Hormonal and emotional changes through all stages

How to create community for this special population

How to guide students through many different meditation techniques

Birthing trends and up to date information for the pregnant community

How to support the post-partum stage
You will be required to observe prenatal classes, assist and teach a class. There is required reading and a written exam.
Admission:
Prospective trainees may request an application for enrollment by emailing teachertraining@studiobambooyoga.com. Completed applications along with a $275 deposit, proof of 200-hour certification or equivalence of, and a list of teaching experience. Applicants will be notified of acceptance upon review.
Tuition:
Tuition In-Full: A deposit of $275, Remaining balance $1,000. Total: $1,275
3 Month Payment Plan: A deposit of $275.00, 3 monthly payments of $400. Total: $1,475
Payment plans are auto drafted. Deposit are non-refundable.
2019 Training Dates: To be announced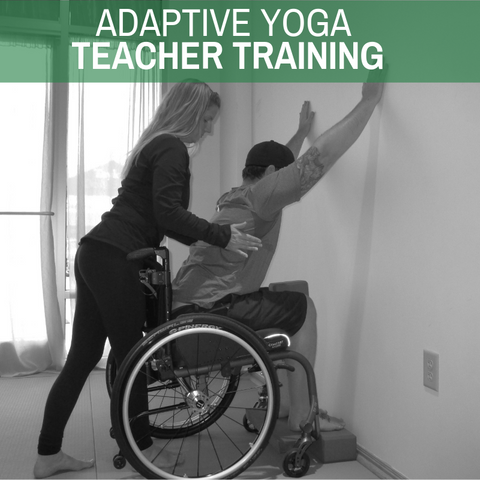 Adaptive Yoga Teacher Training
There are many potential yoga students who feel they are not physically able to experience the benefits of yoga. This is the place where adaptive yoga and its benefits become evident. This training is designed to teach participants to identify, understand and adapt their teaching to ensure this population does not have to feel this way.
This unique approach to yoga will help improve the physical and mental health of those with visible mobility issues, non visible injuries central nervous system diseases and degenerative diseases. Through hands on practice and discussion, we learn how to adapt postures for the bodies of all of our students. This deep, yet accessible work can help develop strength, cultivate empowerment, and give students the confidence to challenge their limitations.
Program details:
We will explore universal principles inherent to asana that can be shared with students regardless of whether they walk, hobble or roll into class
Anyone can benefit from this training including yoga instructors, healthcare providers, support partners & caregivers
Continuing education credits will be available
Tuition: Early Bird $349.00 Regular Price $395.00
Dates: To Be Announced
Registration: Interested trainees may request further information by emailing teachertraining@studiobambooyoga.com.