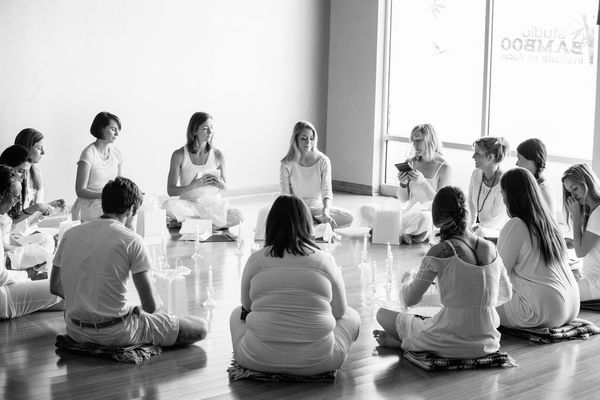 Teacher Training
Studio Bamboo Institute of Yoga is proud to host a variety of Yoga Alliance Registered teacher training programs for those interested in becoming a yoga instructor and/or current instructors that are interested in advancing their studies.
We offer multiple certification levels including, but not limited to, 200-hour Teacher Training, 300-hour Teacher Training, 85-hour Prenatal Teacher Training, Adaptive Yoga Teacher Training, Yoga for Cancer Teacher Training and more.
Yoga Alliance has recently updated their standards and credentialing regarding registered schools. Studio Bamboo Institute of Yoga is pleased to announce that all of our programs exceed the new standards required of Yoga Alliance.
Scholarships Available for Veterans and Military Spouses
Studio Bamboo is a registered school with the MYCCA program. If you are a military dependent or military spouse please contact MYCAA to begin your application to qualify for full financial assistance for Teacher Training tuition at Studio Bamboo.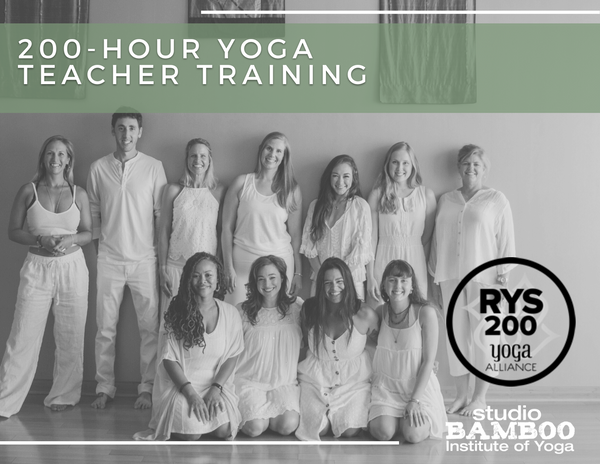 200-HOUR YOGA TEACHER TRAINING
Share the gift of yoga with the world!
Studio Bamboo Institute of Yoga is proud to offer a Yoga Alliance registered 200-Hour Teacher Training program. Studio Bamboo Institute of Yoga's overall mission is to provide our community with the most enriching and informative yoga program in the Hampton Roads area. We believe yoga is for everybody, which is one of our core values. Our instructional staff is dedicated to providing an unparalleled and safe yoga experience for all practitioners and their unique needs.
Studio Bamboo Institute of Yoga Teacher Training School provides teacher training that is thorough and defined. Studio Bamboo feels that teaching yoga is a gift, and the instructional staff strives to prepare each student to be the most qualified and prepared for this gift. Each of our instructional staff comes from different backgrounds and schools, so that together they provide the most diversified yoga teacher training program available. Studio Bamboo Institute of Yoga keeps classes small so that students can have a more personal, individualized, and thorough experience. Students will have the opportunity to immerse themselves in the study and practice of yoga, both on and off their mat.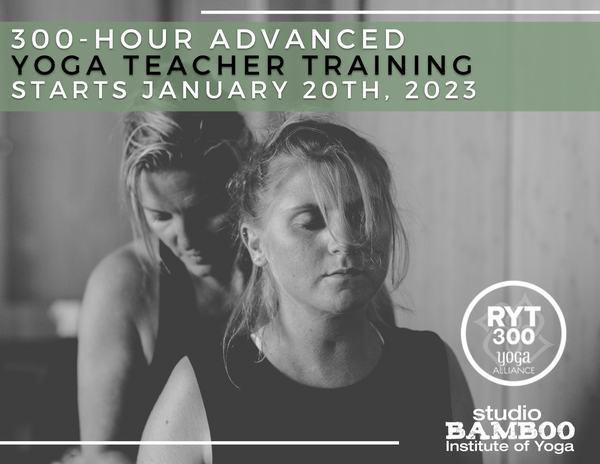 300-Hour YOGA Teacher Training
TRAINING STARTS JANUARY 20TH, 2023
Are you a mover, a shaker, a visionary? Are you a 200 hour teacher yearning for more? Now it is time to take the plunge. Expand what you know and dive deeper. Through comprehensive practice, scientific rigor, and profound contemplation, take your dedicated practice to an entirely new level.
Allow your practice and teaching to be about constant discovery and surprise as it unfolds to new realms. Our 300 hour advanced yoga teacher training is a professional training to differentiate yourself in a growing marketplace. Designed to round out and solidify your education, it will help you develop your own unique teaching identity. By cultivating the wisdom of this ancient tradition you will learn how to apply this deep knowledge to a practice that is relevant in today's world.
This advanced curriculum will strengthen your knowledge as a yoga practitioner, expand your skill level as a yoga teacher, and foster your evolution as a yoga professional.
Prepare yourself for a profound curriculum incorporating yogic techniques allowing you to enhance your physical, mental, and spiritual life. Together, this training offers the highest standards of personal growth, personal awakening, and more self-awareness as it strengthens your knowledge as a practitioner, expands your skills as a teacher, and fosters your evolution as a leader in the global community.
There is no better time than now than to make a commitment to you and your community. Join a group of extraordinary teachers who have been on the leading edge in the Hampton Roads yoga community and beyond.