Events & Workshops Refund Policy
All workshops are based upon registration. In order for a workshop to take place, there must be a minimum number of participants registered. This number is different from workshop to workshop; this is why we ask that you pre-register.
Space will not be held for any workshop without payment. Cancellations requested after payment has been made are eligible for a refund less a 15% administrative fee. Cancellations requested 7 days prior to the day before the event are eligible for a 50% refund. Cancellations requested within 24 hours of an event will NOT be granted a refund. Reserved space is NON-TRANSFERABLE. A waiting list will be established if a workshop sells out, and space will be filled from the top of said list. If Studio Bamboo cancels a workshop or an event a 100% refund will be honored.
Upcoming Events & Workshops
Dharma Yoga Practice with Monica
Saturday, February 11, 2023, 3:00-5:00 PM
Cost: $35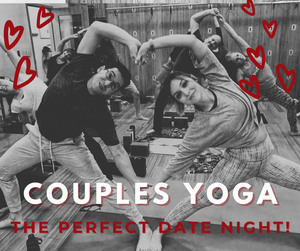 Couples Yoga- Just in time for Valentines day!
Saturday, February 18th from 7:00 pm-8:30 pm
Cost: $40
4 ONLINE Yoga Sutra Studies with Beryl Bender
Dates
February 8th, 7-9pm
February 22nd, 7-9pm
March 15th, 7-9pm
March 29th, 7-9pm
Cost: $100
Evelyn's Wildlife Refuge Donation Class
Join Kristin for a Donation class benefiting Evelyn's Wildlife Refuge Saturday, March 11th, from 1-2 pm
15- Hour Yoga for Trauma Training
Friday, March 24th, 6:00-9:00pm
Saturday, March 25th, 12:00-5:00pm
Sunday, March 26th, 10:00am-2:00pm
SOUFRIERE, DOMINICA YOGA RETREAT
ESCAPE & DARE TO EXPLORE DOMINICA WITH ANN AND ERICA
EARLY BIRD PRICE ENDS DEC 15TH!! SAVE $300
SOUFRIERE, DOMINICA APRIL 22 - APRIL 28, 2023
100-Hour Mindful Yoga Therapy Certification Program
Using Yoga for Trauma-Related Disorders
This will be held hybrid, live in person, and live stream.
2023 Program Dates:
June 2-4
July 7-9
Aug 11-13
Sept 8-10
Oct 13-15