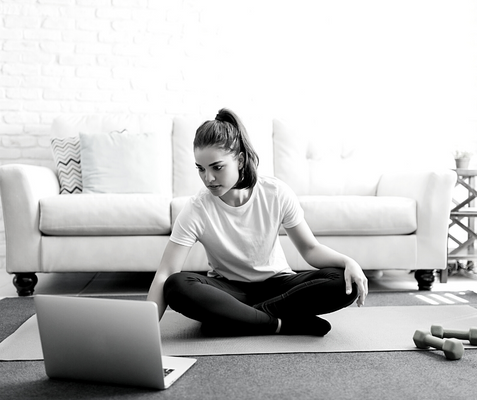 Virtual Yoga
It is easier than ever to practice with Studio Bamboo Institute of Yoga at home or on the go. Studio Bamboo is excited to offer all of our classes Virtually! Students have the ability to LIVE stream our classes from anywhere in the world. Do you have a Studio Bamboo Memberships? If so, you have unlimited access to in-person classes, LIVE streaming classes, and to our comprehensive Virtual Yoga library of content led by your favorite Bamboo teachers.
Are you only interested in Virtual classes with us? No Problem!
Virtual Classes and Pricing:
Single Drop-In- $15
One Month Unlimited- $99
10 Class Package- $129
NEW STUDENT? Take advantage of our New Student Intro Offer! $49 for 30 days of unlimited classes.
PURCHASE A VIRTUAL PRICING HERE
BEFORE YOU TAKE AN ONLINE CLASS Please Read Carefully!
Register for Class! Check the class schedule and register for the class as normal! There are 100 spots available for each class.
Registration will cut off at 5 minutes prior to class start time.
After signing up for class, you will receive a confirmation email with the link for the class. The registration links are generated and email 4 hours prior to class start time. Links will continue to be generated every 15 minutes for students that register within the 4 hours.
ZOOM Streaming- You will need to download Zoom to your device prior to class if you haven't already done so. You will need this for live streaming. If you are using an Ipad or iPhone you will need to download the App. Upon logging on select your device to use the Audio and Video. Once you are in the class please select the mute off and video off.
We are behind the scenes operating please email us at info@studiobambooyoga.com if you haven't received a link 5 minutes prior to class.
Thank you for being patient as we navigate ways in which to support our yoga community in this time of uncertainty. If you have any questions or help please don't hesitate to reach out at info@studiobambooyoga.com
Ann, Erica, & the Studio Bamboo Team