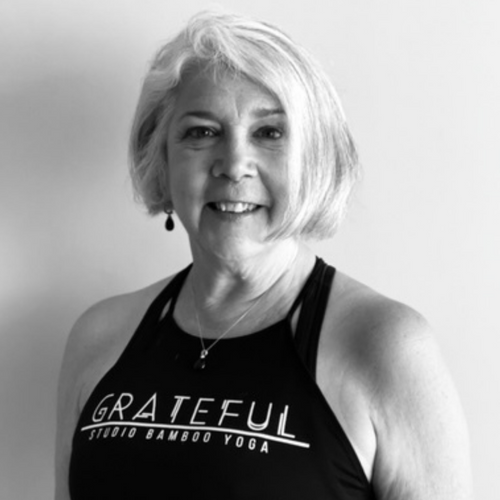 Kate Burns
Yoga Intructor
I've been practicing yoga for 2 decades and teaching for nearly as long. I love to teach because I genuinely want to help people heal from too much! Too much pushing, thinking, eating and drinking, watching the news, negativity, workaholism, sitting around, worry, etc., etc. I discovered through yoga that when we find peace and balance in our body and mind, we can easily find it in the world, any time, regardless of what is happening around us. Yoga is a key to a richer, more satisfying life.
Certifications & Training:
200 e-RYT, 500 e-RYT, Ayurvedic Practitioner, Yoga Therapist
What classes do you teach at Studio Bamboo?
Yoga for Every Body and Multi-Flow
How would you describe your teaching style?
Nurturing. I teach and preach compassion. Every day is different and we need to recognize that and practice accordingly. I will push you when you need it and encourage self-care when you push too hard, helping you to find santosha (contentment) in every practice.
Who would you recommend taking your classes?
Anyone wanting to feel better physically, emotionally, and/or mentally. Also, I teach the why behind the posture to empower you to practice yoga best for your body and needs. This isn't synchronized swimming!
What does yoga mean to you?
Yoga for me is a stronger connection to myself (and ultimately all of creation!) through myself. Practice! (See me for the longer, much more exciting answer!)
Your favorite asana and Why?
I love pigeon. It allows me to practice some breathwork. It's meditative, restorative, and a great hip opener. Plus, with all the variations, I can also work on twists, backbends, shoulders, and/or quads when needed!