Virtual Class Pricing
We will continue to hold LIVE classes daily via Zoom. Here is some important information:
Virtual Classes and Pricing:
Single Drop-In- $15
One Month Unlimited- $99
10 Class Package- $129
NEW STUDENT? Take advantage of our New Student Intro Offer! $49 for 30 days of unlimited classes.
You can use your membership to attend any virtual class as you would attend a class at the studio. If you are a package passes holder, you might see a price difference. Please email us If you would like to get credit for any overpay.
For More Information, we have added the instructions on how to register for class and how to use ZOOM in Services > Virtual Yoga.
If you have any questions or help please don't hesitate to reach out at info@studiobambooyoga.com
Membership & Rates
Whether you are looking to grow in your practice with unlimited yoga or a single drop-in class, we have flexible options designed for every yogi. We proudly offer 10% discounts to military, seniors and students. Join the Bamboo community by selecting the plan that works best for you.
Your Membership Perks
10% Off In House Workshops

10% Off Retail

10% Off Private Yoga Sessions

Convenient Auto Pay

Freeze your Account for 30 days per year: Membership Hold Form

Unlimited Referral Cards (Bring a friend to their first class free of charge)

Add a Family Member for an additional $75/ Month

Unlimited Yoga, Barre, and Pilates classes
Access to two locations Virginia Beach and Chesapeake
Five Practice Spaces
Clean and Spacious
Full-service bathrooms with showers (Virginia Beach)
Over fifty more than qualified teachers
Yoga Concierge
No Mat or Towel Rental Fees
Access to over 20 various class styles
Access to over 90 classes per week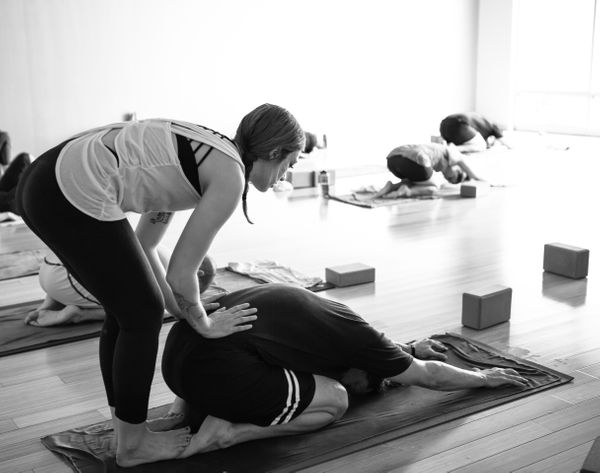 More Rates & Packages
Enjoy 30 days of unlimited yoga to practice as much as you want! This is a great opportunity for new students to try a variety of classes with our fantastic teachers at an unbeatable price.
Bonus, if you sign up for a yearly unlimited membership (see below) before the end of your 30 days you'll receive 15% off the membership price! Please note, this rate is for new students only. No discounts apply.
Enjoy a single month of unlimited yoga. No membership commitment.
Enjoy 3 months of unlimited yoga. No membership commitment.
Over a $200 Savings when you pay for your membership in full.
This package is the best option for the student with a busy schedule.This package features a one-year expiration (no exceptions) and the ability to share with immediate family.
For 12 and under.
Quick and easy, single-visit pricing!
This kid's yoga package features a one-year expiration and the ability to share with siblings. For children 12 and under.
REFUND POLICY:
Purchases of classes, series, offers, promotions, memberships, and merchandise are ALL final sale. That is, there are no refunds or returns. If you do not use your class that class credit will remain on your account for one year. After one year the purchase will be expired.