300-Hour Yoga Teacher Training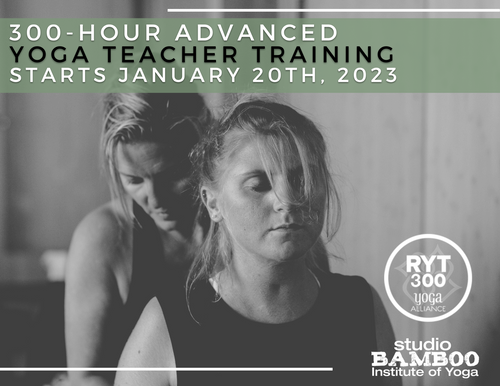 Are you a mover, a shaker, or a visionary? Are you a 200-Hour Teacher yearning for more?
Now it is time to take the plunge. Expand what you know and dive deeper. Through comprehensive practice, scientific rigor, and profound contemplation, take your dedicated practice to an entirely new level. Allow your practice and teaching to be about constant discovery and surprise as it unfolds to new realms.
Our 300-Hour advanced yoga teacher training is a professional training to differentiate yourself in a growing marketplace. Designed to round out and solidify your education, it will help you develop your own unique teaching identity. By cultivating the wisdom of this ancient tradition you will learn how to apply this deep knowledge to a practice that is relevant in today's world.
This advanced curriculum will strengthen your knowledge as a yoga practitioner, expand your skill level as a yoga teacher, and foster your evolution as a yoga professional. There is no better time than now to make a commitment to you and your community. Join a group of extraordinary teachers who have been on the leading edge in the Hampton Roads yoga community and beyond.
Remember space is limited. To request more information or an application please email teachertraining@studiobambooyoga.com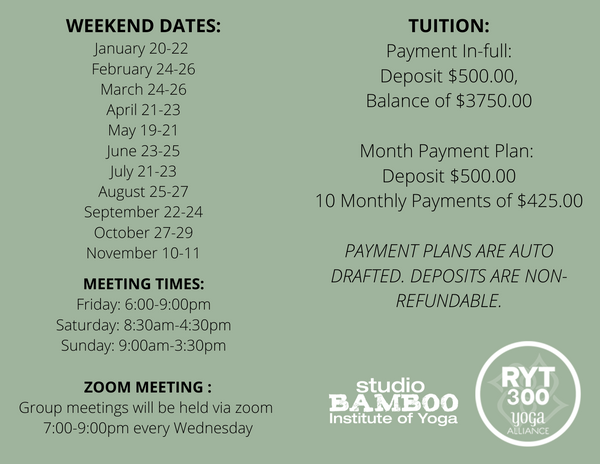 WHAT YOU WILL EXPLORE IN THIS TRAINING:
Prepare yourself for a profound curriculum incorporating yogic techniques allowing you to enhance your physical, mental, and spiritual life. Together, this training offers the highest standards of personal growth, personal awakening, and more self-awareness as it strengthens your knowledge as a practitioner, expands your skills as a teacher, and fosters your evolution as a leader in the global community.
In taking the dive now you will explore a variety of disciplines from different lineages to gain knowledge and skills in the following areas:
Asana
Develop a deeper understanding of the components of asanas

Understand how and why the asanas work

Be confident in providing safe and supportive assists and references (including hands-on based on alignment and energy)

Learn why alignment matters and understand why it isn't the same for every body
Pranayama
Learn the effects of pranayama on anatomy and subtle body

Master the complete sequencing of pranayama to downregulate or upregulate the nervous system
Meditation
Dive deeper into the science and practice of meditation

Establish a practical method for weaving meditation into your teaching
Yoga Humanities:
Dive deep into the discussion of diversity & inclusivity in yoga (and the world)

Understand the need for SEVA and how you can put action to service

Cultivate a deeper appreciation of the roots of the practice and better understand how to honor the lineage with respect
Anatomy and Physiology:
Demonstrate a better understanding of human anatomy and physiology and the subtle body as it relates to the practice of yoga.

Learn to evaluate students' alignment based on the dynamics and energy of the musculoskeletal system.

Understand how each pose affects the systems of the body

Gain an understanding of the Polyvagal Theory and why it has become such a hot topic
Professional Essentials including Teaching Methodology and Professional Development:
Demonstrate leadership skills and learn to better communicate in group dynamics.

Discover how to address specific needs of individual and special populations in private and group settings

Find your authentic voice, using inclusive language and non-violent communication

Refine your cueing to be a more effective teacher

Discover a niche of your own within your community

Grow your yoga business through leadership and development coaching
For the duration of the training we will gain knowledge and understanding in the practices of:
Asana

Pranayama

Meditation

Adaptive Yoga

Working with Injuries

Ayurveda

Yoga Nidra

Trauma

Fascia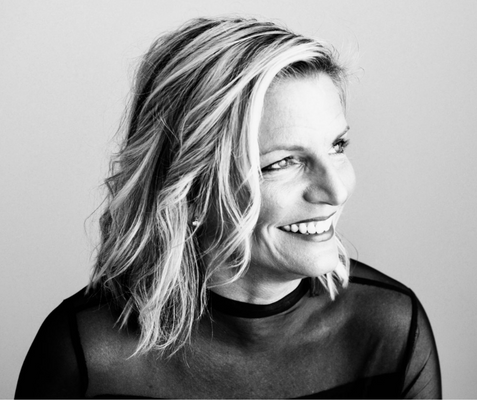 Ann Richardson Stevens
Director of RYS-200 & 500-Hour Yoga Teacher Training and Co-Owner of Studio Bamboo.
Ann believes yoga should be fun. Her classes are playful and challenging, and she teaches with the intention to guide others to be present in their experiences on and off the mat. Always teaching with an emphasis on alignment, Ann encourages her students to adapt the practice to their own unique needs. Ann believes that full body wellness is generated from the mind-body connection. That connection is found in every one of Ann's classes whether students walk, hobble or roll into the room.
Mentors:
Beryl Bender Birch and Matthew Sanford are Ann's mentors, but her best teachers are her students!
Experience and Certifications:
Certified Yoga Therapist - International Association of Yoga Therapists
Yoga Alliance - Registered as an Experienced 500 hour multi style teacher
Yoga Alliance – Registered Yoga School 200/500 hour
YACEP Provider Yoga Alliance
The Hard & The Soft Yoga Institute - Certified at the advanced level of 1000 hours
Adaptive Yoga Level I/II and advanced certificates
Certified in Yoga for Trauma and PTSD
International Association of Yoga Therapists, member
New York Iyengar Association, member