Taylor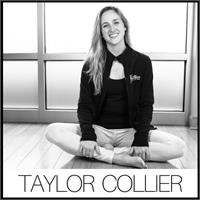 Taylor and her beloved cat Tucker moved from Alexandria, VA to Virginia Beach a little over a year ago. She took her first yoga class during college in 2005, and loves the mental and physical benefits of a solid practice. While having and upbeat and energetic personality, she enjoys slowing down and leans towards more Yin and Restorative styles of teaching and practicing. She loves to dance and will never pass up a plate of french fries.
Position at Bamboo:
Front Desk
Teacher (sub)
Certifications and Education:
200hr RYT (Studio Bamboo Institute of Yoga)
Favorite Asana:
Vrkasana – tree pose, because I feel strong, solid, and powerful. (Also, who doesn't love a nice tree?!)
Malasana- Garland (squat) pose, love the hip opener and back releasing qualities of this pose.
Taylor is currently not instructing any classes.