Andie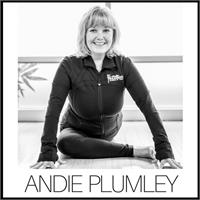 An Air Force brat, Andie lived in Europe most of her life before settling in Virginia Beach. After several years in VA Beach, She was blessed to have found a hOMe at Studio Bamboo.
Andie is a master's level mental health clinician and behavioral consultant, providing services to individuals with complex psychological and cognitive issues – focusing on the whole person, mind, body and spirit. Her yoga journey has enhanced her skills and made
her a much more holistic clinician.
Teaching Style:
My yoga practice has brought so much into my life, I am humbled to be able to share what has been given to me. My style is hands on, encouraging, and playful with a focus on yoga foundations and benefits.
Education and Certifications:
-RYT 200HR from Studio Bamboo
-Y12SR Certified
-15 HR Mindful Yoga Therapy
-Adaptive Yoga Training with Ann Richardson
Favorite Asana:
Urdhva Dhanurasana – Wheel Pose – at it causes me to feel invigorated, open, balanced, and strong. It requires that I am patient and do the work that is required to warm up. Then I must focus and be bold and strong. Finally – Sthira and Sukha – steadiness and ease to hold and breathe.
Andie instructs the following:
Foundations is an introductory class designed for the new yoga practitioner or those who want to get back to the "basics." This class will focus on the principles of alignment and begin to introduce breathwork. Classes will improve balance, strength, flexibility and promote better body awareness.


Please Note: Due to the high volume of students, pre-registration is encouraged to reserve your spot in class. In order to best serve all students, if you are not present 5 minutes prior to class start time your pre-registered spot will be forfeited. Need help pre-registering for class? Feel free to contact the front desk.