Stephanie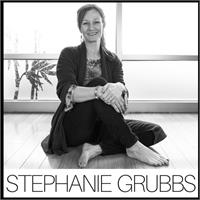 Yoga found Stephanie in 1992 while living in Key West during a life filled with roller-blading, swimming, scuba diving, and running. She still loved these activities but nothing quite made her feel whole and complete like yoga did. In her early 40's as a mother of two girls, she decided to pursue becoming an instructor in order to share the gift of yoga with others. She brings her motherly compassion and her children's curiosity to her teaching, integrating breath work throughout to support and enhance mind-body awareness. Her classes are accessible to all levels of abilities and incorporate modifications for those new to yoga and for individuals with special needs.
Her passion is working with Wounded vets and first responders, giving back to those who have sacrificed so much.
Classes at Bamboo:
Foundations Mon & Wed 9AM, Multi
Teaching Style:
Alignment-based; I want my students to feel an experience rather than their body "look" a certain way; it's ok to smile and laugh
Experiences and Certifications:
YRT200, Yoga Warriors Certified, Workshops include: Adaptive, Yin, Chair, Restorative

Favorite Asana:
Chaturanga Dandasana – requires strength, mindfulness and the experience of subtle alignment focus
Stephanie instructs the following:
Foundations is an introductory class designed for the new yoga practitioner or those who want to get back to the "basics." This class will focus on the principles of alignment and begin to introduce breathwork. Classes will improve balance, strength, flexibility and promote better body awareness.


Please Note: Due to the high volume of students, pre-registration is encouraged to reserve your spot in class. In order to best serve all students, if you are not present 5 minutes prior to class start time your pre-registered spot will be forfeited. Need help pre-registering for class? Feel free to contact the front desk.




Warrior Yoga is for veterans, active duty, and first responders only and is a complimentary class based on Mindful Yoga Therapy practices. The MYT protocol is an empirically informed, clinically tested program comprised of five main tools: Pranayama (breathing), Asana (physical yoga postures), Yoga Nidra, Meditation, and Gratitude. Yoga practices can be a powerful complement to professional treatment for trauma and PTS--and have had a lasting positive impact on many veterans and active duty personnel who have worked with us. Mindful yoga practices can provide relief, and work to develop the supportive skills that help in leading a full life.