Marsha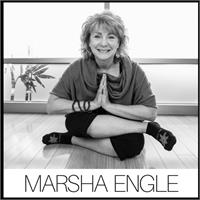 MSW, M.Ed, is a clinical social worker in private practice who has many years of experience utilizing mind-body-spirit approaches for maintaining physical and mental health. She has specialized training in trauma work (EMDR) and in working with family issues and addictions. Marsha blends her knowledge of cognitive therapy with her knowledge as a RYT-200 Yoga Instructor, massage therapist, and a Reiki practitioner to facilitate healing at multiple levels. Marsha is married, has an amazing son and lovely daughter-in-law, and a pup named Gracie, psychotherapist in private practice, founder of the Mindful Living Institute.

Classes at Bamboo:
Foundations
Teaches Meditation for Teacher Training

Teaching Style:
Fun and playful; encourage participants to practice creating a friendly internal environment (release any self-criticism) as they move through practice and not to take selves so seriously
Experience and Certifications:
-200-hour from Studio Bamboo Trained with Amy Weintraub, the leader in yoga and mental health Trained with Sharon Stone - Mindfulness Meditation

Favorite Asana:
I have 2 Virabhadrasana (Warrior II) boosts my energy; helps me reconnect to my inner strength when I feel unsteady or anxious . Eka Pada Rajakapotasana (Pigeon) counters all the sitting I do as a therapist
Marsha instructs the following:
Foundations is an introductory class designed for the new yoga practitioner or those who want to get back to the "basics." This class will focus on the principles of alignment and begin to introduce breathwork. Classes will improve balance, strength, flexibility and promote better body awareness.


Please Note: Due to the high volume of students, pre-registration is encouraged to reserve your spot in class. In order to best serve all students, if you are not present 5 minutes prior to class start time your pre-registered spot will be forfeited. Need help pre-registering for class? Feel free to contact the front desk.